WD-300 |Accurate periodic measurements
A standalone wireless vehicle sensor for accurate periodic measurements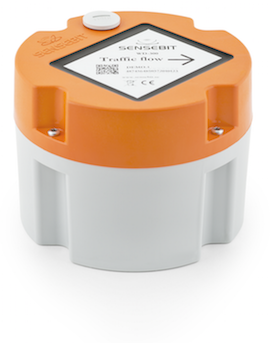 Wireless quality
The WD-300 is a standalone vehicle sensor with integrated battery and modem that requires no roadside installation. The sensor is installed in the center of the lane to be measured and is managed remotely. With quick installation, remote management and high accuracy data, the WD-300 is an ideal product for replacing pneumatic tubes, ambulating radar or manual counting, when accuracy is key.

Download product sheet

Measure anywhere
Since no roadside equipment is needed, the WD-300 can be installed basically anywhere in less than 15 minutes to collect traffic data.
Accurate
All our vehicle sensors deliver the same high accuracy data verified in independent tests by research organizations and traffic authorities.
Robust
Built to handle Nordic winters and Australian summers and with no roadside installation, the WD-300 requires no maintenance once installed.
Open
Built on open protocols, the WD-300 can be used with both existing software as well as our cloud based analytics tool TrafficWeb.
What data do I get?
Vehicle-by-vehicle data that can be used for statistics, detailed studies or ITS applications.
Timestamp
Synchronized time with millisecond resolution.
Velocity
-200 to 200km/h with 0.1km/h resolution.
Classification
Up to 5 classes, choose your scheme.
Length
Bumper to bumper with 0.1m resolution.
Classification error (five class scheme)

5%

5%
Average velocity error

1%

1%
Average length error

1%

1%
Accuracy
We continuously participate in third party tests organized by road administrations and research organization throughout the world to assert the performance of our vehicle sensors. All accuracy claims are based on independent and published reports.
The data is not ok, it's fantastic
- John Byrnes, CEO Road Information Technologies
Battery life for different scenarios
10 years, 80 days
The battery life in the WD-300 is limited to 10 years during which you can schedule 80 days of measurements.
years, measuring one week each year
years, measuring summer and winter week each year
years, measuring statistically verified AADT
Physical specifications
| | |
| --- | --- |
| Height | 120 mm |
| Diameter | 150 mm |
| Operating temperature | -35°C to 70°C |
| Ingress protection | IP68 |
Network specifications
| | |
| --- | --- |
| Bands | GSM/GPRS/EDGE: 850/900/1800/1900 MHz, WCDMA: 850/1900/2100 MHz |
| SIM card | Mini-SIM (ISO/IEC 7810:2003, ID-000) |
Installation specifications
| | |
| --- | --- |
| Drill diameter | >157 mm |
| Drill depth | 180 mm |
| Installation time | ~15 min |
Try the wireless WD-300 today!
Enough reading, request a demo of the WD-300 and see for yourself